Everything you need for a successful video call – audio, camera, video app, action! The built-in software used by our complete room solutions are compatible with many of your favorite platform apps. No need to bring your own PC or Mac; just click the controller to join and you are ready to meet.
SMART CAMERA FOR LARGE MEETING ROOMS
Dual lenses with 20 megapixel 4K sensors
Poly DirectorAI smart camera technology
Motorized, integrated electronic privacy shutter
Includes Poly Lens management software
Connects to Microsoft Teams Rooms on Windows and Poly G7500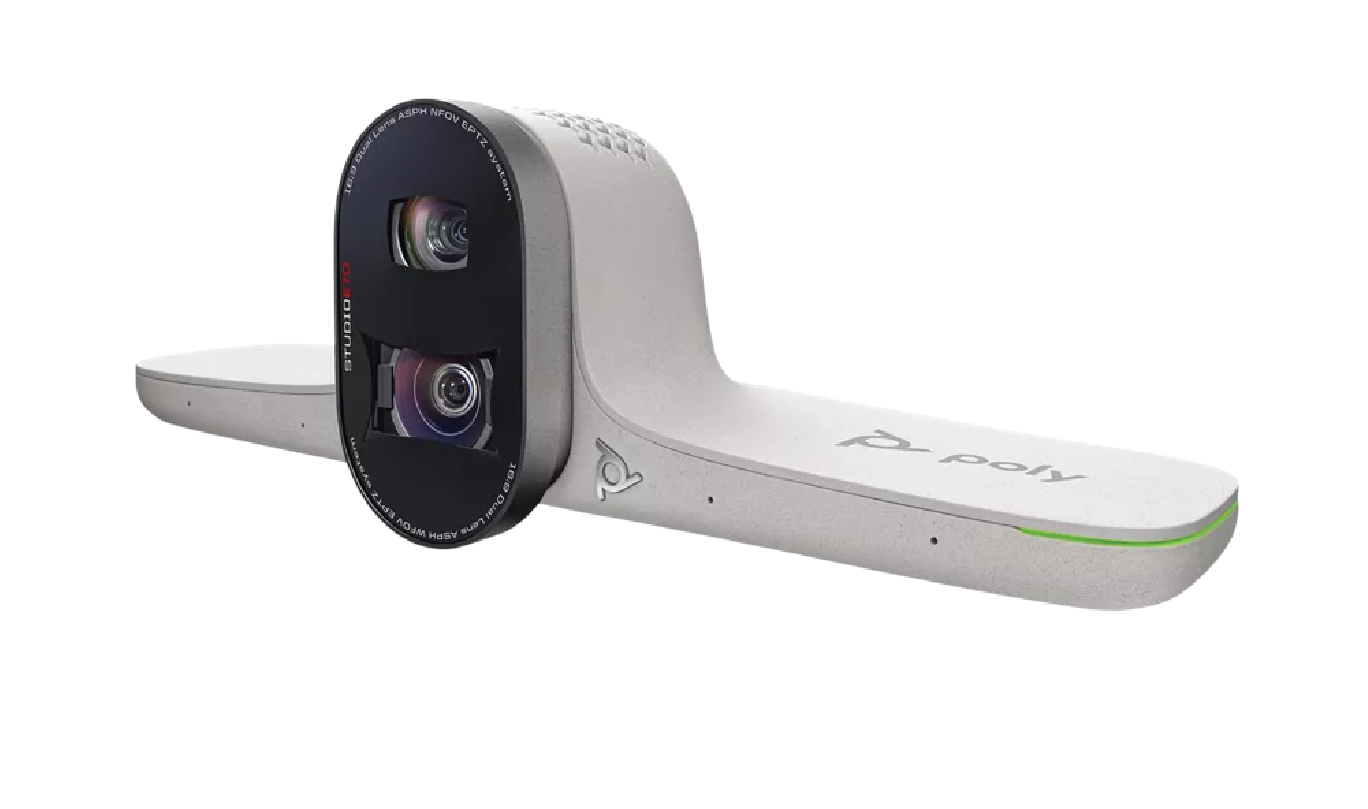 The Poly Studio E70 provides large meeting rooms with the ability to transition undetected between a wide angle and narrow lens. Everyone in the room is seen in sharp detail.
NEW INTELLIGENT CAMERA TECHNOLOGY
Poly DirectorAI smart camera technology allows you to choose between group framing, people framing, or speaker framing to create the most equitable experience for your hybrid meetings.
Motorized, integrated electronic shutter provides split-second privacy. Poly thought of everything when they designed this one – including enhanced security with a motorized, integrated electronic privacy shutter.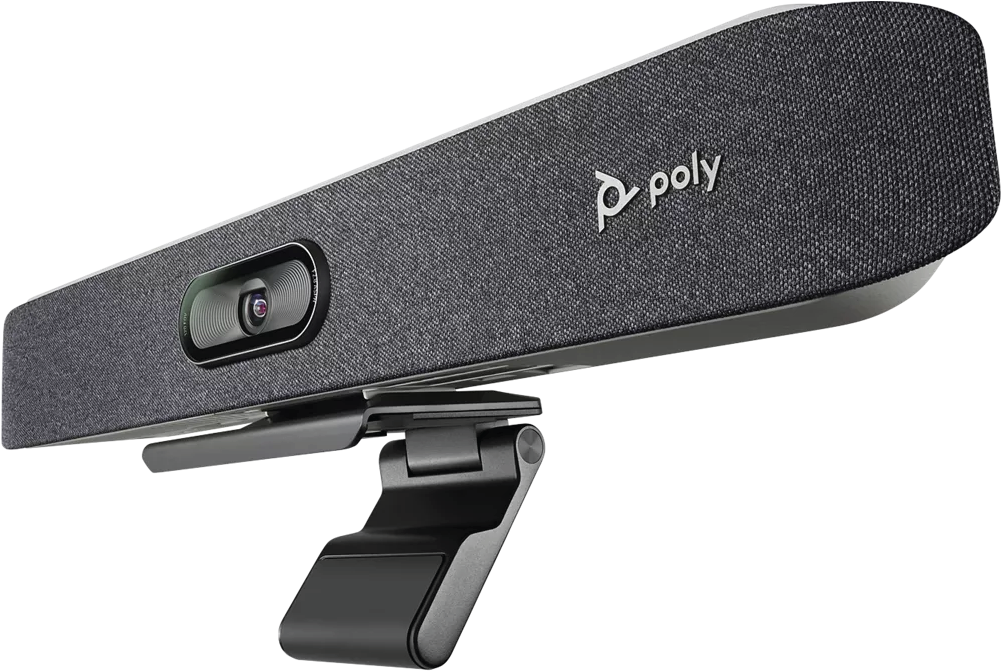 RADICALLY SIMPLE VIDEO BAR
Keep it simple — no computer needed
Compact design makes it easy to set up
Share content easily, wired or wirelessly
Make your huddle rooms sound like board rooms
Get your huddle and small rooms up and running in moments. No PC or Mac is required — support for your favorite cloud service platforms are built right in. The compact, lightweight design easily fits on top or underneath display in rooms of up to six participants. Not bragging. Just facts.
Feel more connected to others on the call, thanks to cinema-quality camera framing. Block out audio distractions with NoiseBlockAI technology, powered by machine learning. And easily share content over wired or wireless connections.
Poly Studio X30 video bar features native support for Video-as-a-Service (VaaS) platforms, including Zoom and Microsoft Teams, without the need for a PC. Plus, it has H.323 and SIP support for easy connection to any standards-based video solutions for VaaS gateway.
VIDEO BAR FOR LARGE CONFERENCE ROOMS
Dual 4K lenses
Two-way stereo speakers, aluminum cone tweeters, and advanced bass ports
Poly DirectorAI smart camera technology
NoiseBlockAI noise reduction technology
Seamless native experience on leading cloud video services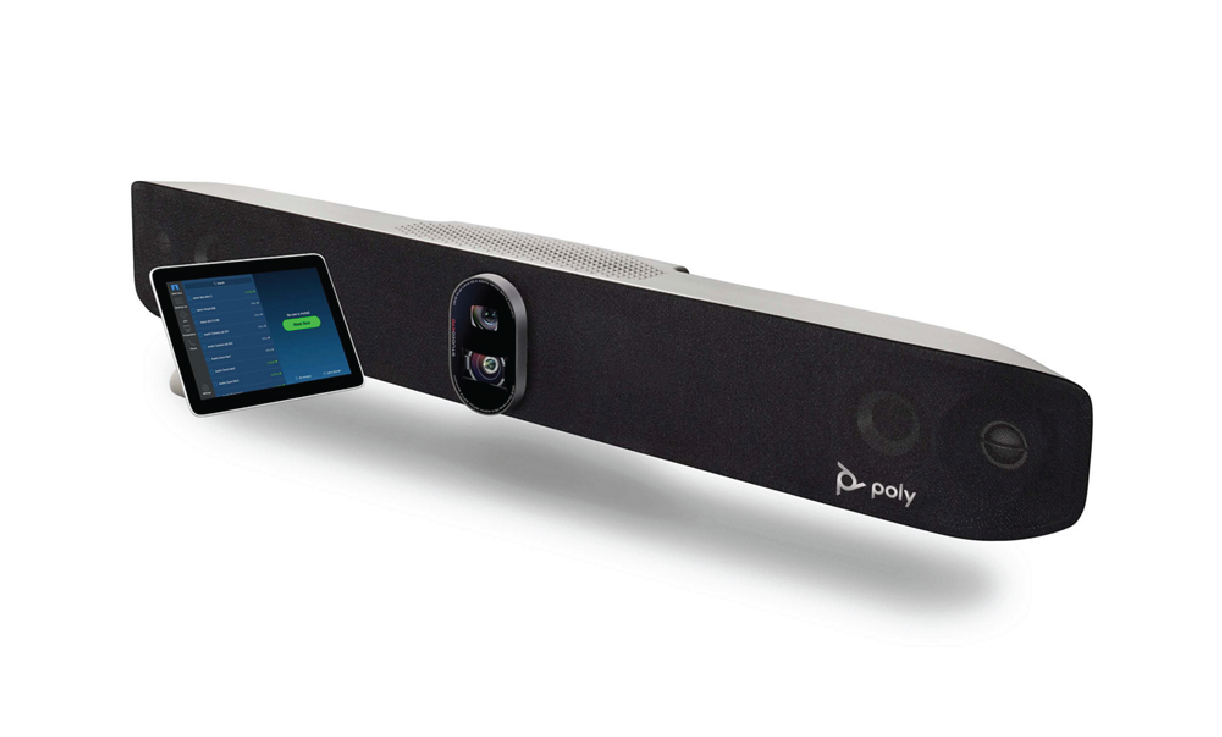 Crystal clear video with dual lenses and 4K sensors. The Poly Studio X70 transitions seamlessly between wide-angle and narrow lenses, showing everyone in your medium and large meeting spaces in sharp detail. Ready for your close-up?
Poly Studio X70 comes with native applications for key cloud video providers like Zoom. Native apps make it easier for users, with a consistent and familiar interface everywhere. We combine Poly MeetingAI technology with partner platform features for a next level experience.
Enjoy the kind of crystal-clear, boardroom-filling audio you'd expect from Poly, thanks to two-way stereo speakers and advanced bass ports. And the Poly Studio X70 delivers advanced 2nd-order gradient microphone array, which means a next-level audio experience, no matter which side of the call you're on.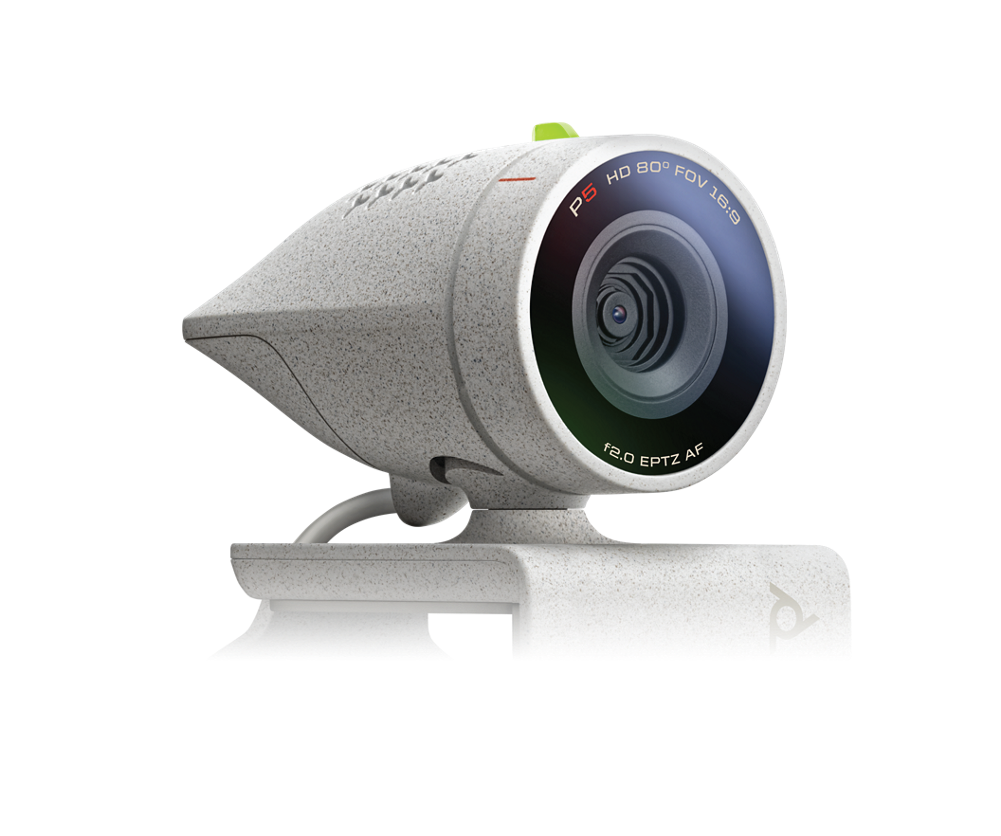 PROFESSIONAL WEBCAM
Exceptional camera optics and automatic low-light compensation
Hear and be heard wherever you work
You can take it with you: small, rugged and portable
Make life simple: easy to use, setup, manage and troubleshoot
Automatic low-light compensation and brilliant colors make you look your best, without being left in the dark. The 1080p resolution with 4x digital zoom camera puts the focus on you, right where it belongs.
The Poly Studio P5's directional microphone clearly captures your voice while ignoring the distracting noise that interrupts your calls. For the best experience, pair it with a Poly headset or speakerphone so you're ready to tackle your most critical conversations with confidence.
Streamline your setup by using a Poly headset or speakerphone connected wirelessly to the Poly Studio P5 webcam. Just pop open the rear garage door, park your USB-A wireless adapter and presto! Your audio and video are ready to go.