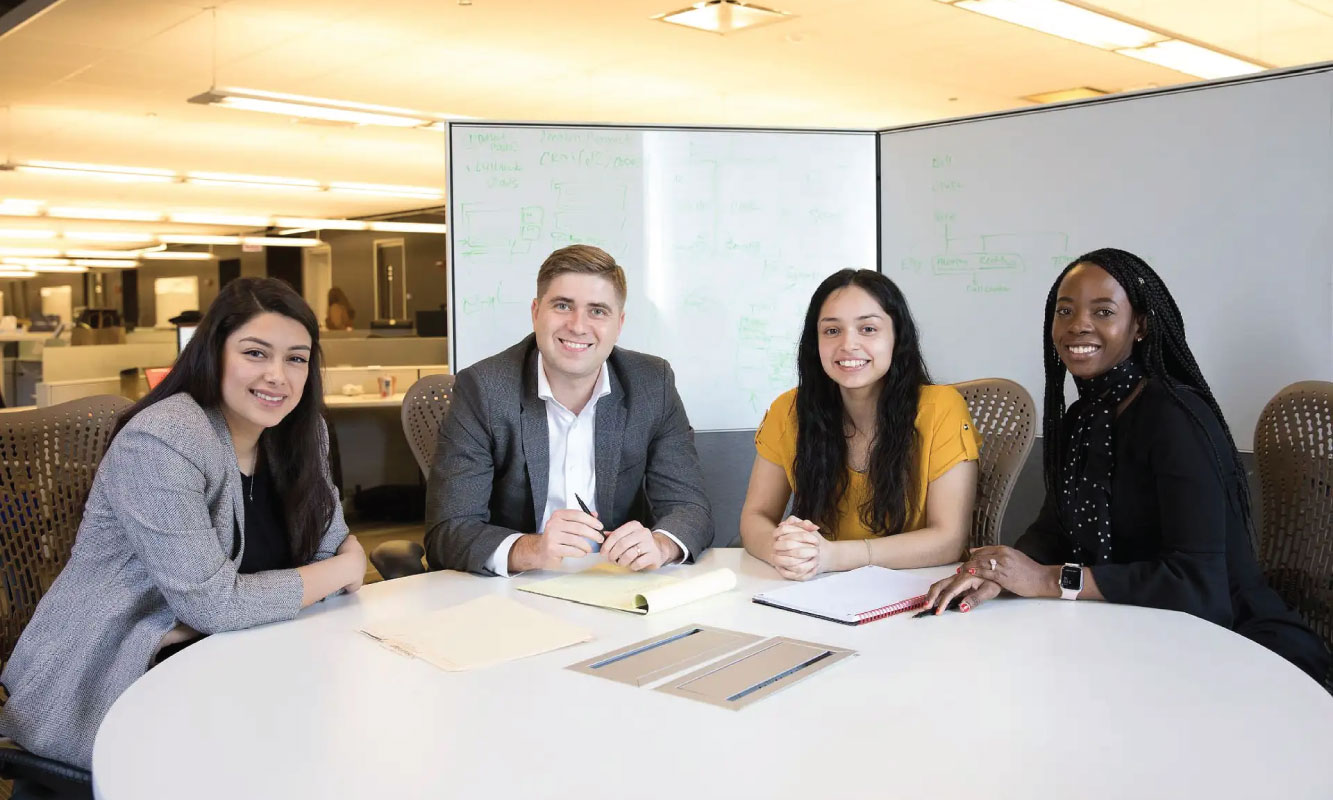 OCTOBER 2022 CHARITY OF THE MONTH
In partnership with the Minnesota Wild, we are the sponsor of the Minnesota Wild Charity of the Month Program. Throughout the NHL season, we feature a new charity each month. This months selected charity is Genesys Works!
About Genesys Works
Genesys Works Twin Cities (GWTC) envisions a future where all young adults are equipped and empowered with the knowledge and skills required to achieve career success, upward mobility, and a lifetime of economic self-sufficiency. GWTC creates career pathways and opportunities for youth from underserved communities while simultaneously helping employers fill critical talent gaps within their companies. We do this by providing skills training, counseling and coaching, and paid internships for high school seniors who currently reside in underserved communities and lack access to the resources needed to achieve sustained economic mobility.
GWTC closes the education and economic opportunity gaps by providing equitable access through a multifaceted program pipeline from the summer before students' senior year of high school through to their first full-time job.
Genesys Works mission is to provide pathways to career success for high school students in underserved communities through skills training, meaningful work experiences, and impactful relationships.
SUMMER TRAINING
A rigorous eight-week boot camp with a curriculum that teaches professional and technical skills that prepares students for their year-long internships. The technical curriculum has included Microsoft Office (particularly Microsoft Excel), information ethics and cybersecurity, and project management like agile methodology. The professional skills curriculum includes areas such as professional networking, presentation skills, and self-advocacy. Students who complete summer training can also receive three college credits from Hennepin Technical College.
PAID INTERNSHIP
After summer training, high school seniors are placed into year-long corporate internships and gain approximately 1,000 hours of meaningful professional experience. Class of 2023 high school interns will earn approximately $16,000. This exposure to the expectations of a professional work environment allows students to discover more about their strengths and personal interests to guide their educational and career paths. GWTC provides training throughout the program year for intern supervisors at partner companies.
COLLEGE & CAREER COACHING
COLLEGE & CAREER COACHING
Each student creates an individualized post-high school plan. Students receive one-on-one coaching from GWTC staff through their senior year and attend several college and career conferences to explore pathways, hear professional experiences, and expand networks. Students also have access to additional workshops that provide information and support with important post-high school planning topics. Workshops, distinct from Conferences, allow for individualized support, including how to fill out FAFSA applications and to file taxes.
ALUMNI SUPPORT
Program alumni, GWTC participants who have completed their high school internships, continue to be supported toward launching their career, including college internships with corporate partners, post-secondary persistence, and professional development workshops. Our Talent Development Pipeline program provides a more focused and intensive cohort-based program for students interested in business and technology careers.
Volunteer Opportunities
Genesys Works Twin Cities (GWTC) has volunteer opportunities throughout the year that supports our high school students and alumni. Opportunities can include resume reviewing, event volunteering, presenting, or serving as a panelist at our College and Career Connections Conferences on various topics such as college experiences, career pathways, and personal financing and reviewing resumes of our alumni who are looking for external internships or full-time opportunities. If you are interested in participating in any of these volunteer opportunities, among other engagements that arise throughout the year, please reach out to [email protected] for upcoming needs as volunteer recruitment for needs is ongoing.