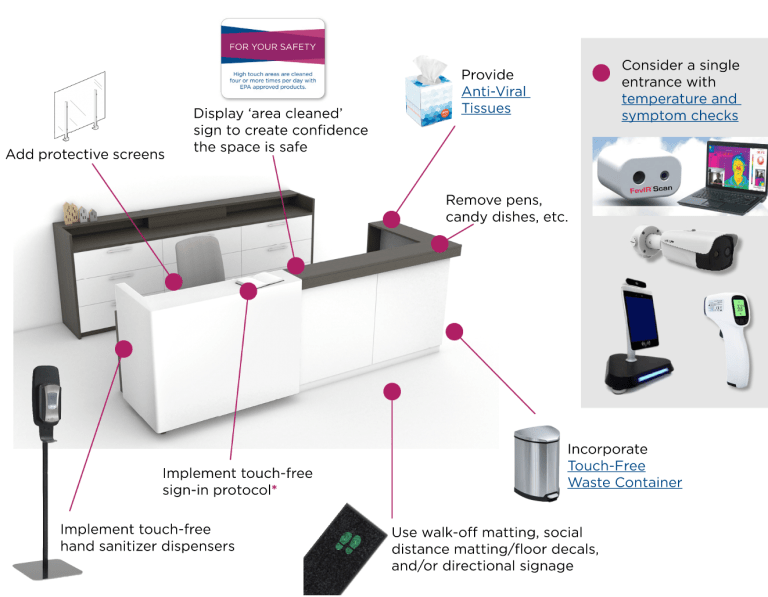 Be Prepared
Create a safe and healthy work environment. Developing a COVID-19 preparedness plan is key to having proper measures in place while setting the stage for workplace health and wellness.
According to the New York Post, 80% of employees would not feel safe returning to work upon re-opening. Organizations can implement best practices to ensure their employees have a safe and healthy work environment when returning to the office. Developing a COVID-19 preparedness plan is key to having proper measures in place while setting the stage for workplace health and wellness. From protective shields and temperature checks, to touch-free restrooms and social distancing signage, welcome to the next way of working, lets get started!

Focus on the High and Medium Traffic, High Touch Areas:
Temperature Checks
Are you incorporating temperature checks at entrances? Many organizations are and it is important to ensure your employees and visitors are safe. Taking this measure will inspire confidence when entering your workplace.
Cleaning Protocol and Guidelines
What are your cleaning protocols, and do you have guidelines? There are an array of cleaning solutions to consider. From UV disinfecting technology, to EPA registered cleaners and microfiber cloths, protocols such as 'you touch it, you clean it' are increasingly popular along with frequent hand sanitizer use. Locate sanitizer stations throughout the office, especially at the main entry and near workstations to promote cleanliness and hand hygiene.
Touch-Free Spaces
How touch-free are the spaces in your workplace? People are now hyper-aware of what they come in contact with and are mindful not to touch their face. We are confident touch-free solutions will stick after this pandemic. Hands-free door openers, touch-free soap dispensers and water faucets, and automated flush systems will be standard. Among the many studies conducted on air dryers, one found that they send out over 190 times more virus than paper towels (Washington Post). If it is the only thing you can do, replace air dryers with touch-free paper towel dispensers to create a safe and healthy work environment.
Air Purification
Have you considered air purification? According to the EPA the levels of indoor air pollutants are 2-5 times higher than outdoor levels! Air purification can eliminate more than 97.8% of pollutants and reduce infection.
Social Distancing and Communication
How will social distancing and cleaning guidelines be communicated? Many buildings have already added signage indicating the surface has been properly cleaning and sanitized. This is just one of many ways to instill trust and make occupants feel comfortable when entering your workplace. You should also include informational signage to direct the flow of traffic, educate on hygiene etiquette, and maintain social distance. There are many ways to do this from custom decals, to freestanding whiteboard signs, and floor mats with 6-foot distance symbols.
Furniture and Design
How will your furniture layout be impacted? Employees have been working remotely in the comfort of their homes for some time now. Returning to the office can be overwhelming, especially in open office environments. Create a sense of safety by retrofitting, reconfiguring, and even repurposing what you already have. Adding protective shields or repurposing a mobile whiteboard to double as a shield, reorienting workstations so they are not face-to-face, and simply removing seats in your breakroom goes a long way to protect your team.

Working Remote 

Millions of employees have followed stay at home orders and have been working from home to prevent the spread of COVID-19. A recent study by IBM found that nearly 55% of employees want to work remotely most of the time after the pandemic (Business Insider). Remote working is here to stay. Some companies are providing their employees with ergonomic furniture and accessories along with products to stay productive at home. Sit-stand desks, adjustable monitor arms, and task lighting are popular items!

Psychological Safety

On the flip side we know people have been significantly disrupted by this pandemic, and over 50% of survey respondents feel lonely working from home (USA Today). Some people want to remain working from home while others desperately want to get back into the office and are craving social connection. As employers we need to be aware of not only physical safety but psychological safety as well.

There is a lot to navigate as we prepare our return to the workplace. We understand there is not a 'cookie-cutter' solution which is why we strive to understand the goals of every organization. As you transition back to the office, we are here to make sure you are equipped with the proper workplace solutions needed in all areas of your business. With safety, wellness, and health being paramount, are you ready for employees to return to the workplace?

Go to innovativeos.com to get started and learn more today!

Author: Kelly Link, Innovative Office Solutions

Bio: Kelly Link is a Workplace Strategy professional with a background in Interior Design. She is inspired by people and has a passion for problem solving with both qualitative and quantitative methodologies. She is committed to listening to user requirements, wants, and needs while working as a team to achieve a noteworthy solution. She is most passionate about consulting on interior environments that positively influence people's health, well-being, behaviors, and experiences. Outside of work she serves on the CoreNet Midwest board of directors. She is a Certified Interior Designer, LEED Accredited Professional, WELL Accredited Professional, Fitwel Ambassador, and a Qualified Professional of Corporate Real Estate.