SANFORD PENTAGON: OLYMPIC VOLLEYBALL  SPORT FLOORING
BACKGROUND
The 2020 Summit League Volleyball Championship took place April 2021 at the Sanford Pentagon in Sioux Falls, S.D. The 3,250-seat Pentagon is home to Sanford POWER Basketball Academy, Sanford POWER Volleyball Academy, the NBA G League's Sioux Falls Skyforce, Augustana University Men's and Women's Basketball, the Northern Sun Intercollegiate Conference Women's and Men's Basketball tournaments and the South Dakota High School Basketball Hall of Fame.
CHALLENGE
The Sanford Sports Complex in Sioux Falls, the Sanford Pentagon, hosted the Summit League Volleyball championship this April. When preparing for the tournament, the Pentagon was looking to create an Olympic quality volleyball court in their existing space. However, they wanted a solution that did not involve replacing the existing flooring as the nine basketball courts are used for various events throughout the year. The flooring also needed to be portable and customizable, allowing for easy install and removal, as well as easily fitting around permanent fixtures in the space.
OBJECTIVES
Install volleyball court without replacing existing flooring
Create an Olympic quality volleyball court
Include portable flooring solution for easy install and removal
Customize flooring to fit space and allow permanent fixtures (ex. bleachers) to remain
SOLUTION
Innovative Office Solutions, in partnership with HiLine Inc., installed Gerflor USA's Taraflex Sport M Comfort.  This trusted product offers superior resistance to furniture and rolling loads found in multi-use gymnasiums, while providing great sports properties to athletes when considering shock absorption and comfort. This semi-permanent and portable flooring offers solutions over existing hardwood floors to meet the needs of NCAA® Division 1 volleyball teams. Taraflex® volleyball courts are customized for the unique needs of each facility & team.
Maximum Comfort, Safety, & Injury Prevention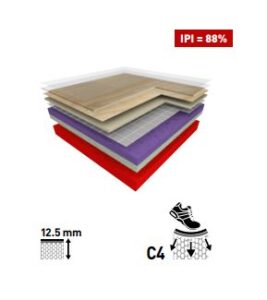 Taraflex Sport M Comfort is the only sports flooring with triple-density foam backing to minimize the risk of injuries.
Triple density foam backing
The only synthetic sports flooring option in Class 4 of the
ASTM F2772: ≥ 50% shock absorption
Highest immediate protection index upon impact: 88% IPI
Offers the highest comfort and shock absorption to prevent
long-term injuries and immediate injuries upon impact
Ideal for intense training camps and repetitive jumping
CHAMPIONSHIP GAMES PLAYED
We had a great experience from design to installation with Innovative. The Taraflex floor combined with our existing wood floor gives the Sanford Pentagon as good a surface for volleyball as there is anywhere in the country.