Ordered the wrong products and need to send it back? There are a few ways to complete this process.
Click here to visit our Online Ordering Site and Log-In to your account
1. On the My Account page click the Request a Return: Use this form to search past orders providing us with as much information as possible.
2. Use the form to search past orders providing us with as much information as possible. Search using Sales Orders, Invoices, Product Number, and more.
3. Select product, enter quantity, pick Return Reason. Click Submit when finished. Tip: Check Return All to send back everything on the order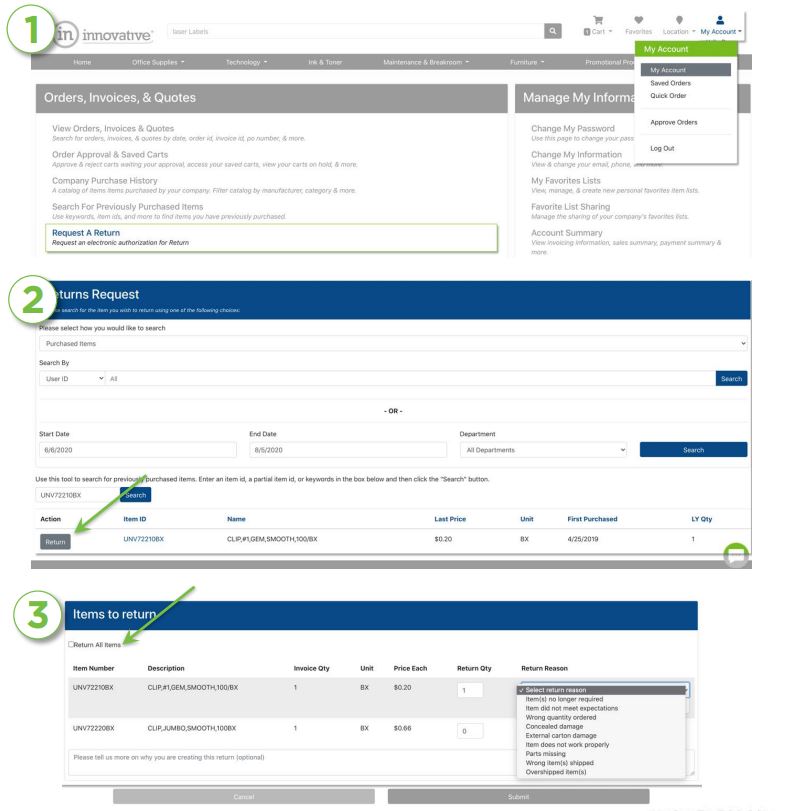 ______________________________________________________________________________________________
Unsure if your item is able to be returned? Click here to view our Return Policy
Furniture: Because furniture is subject to natural wear and tear, returns must be made within 14 days. The product must not have been used and be in its original box in resalable condition.  Custom-ordered and custom assembled furniture is made and/or assembled to your specifications. It is only returnable if it is defective or damaged when received. Please report any damage occurring from shipping immediately so a claim can be filed with the carrier.
Once we receive the sign off on a design plan and proposed budget, your order will be placed. Due to the customization of many projects, once orders are placed, most products are not returnable. Modifications or cancellations may result in cancellation or restocking charges by our manufacturer partners. Unfortunately, we will need to invoice you if such charges are incurred. If a Scope of Work is included with this agreement, costs resulting from changes to the scope of the project (including any additional requirements or restrictions placed on Innovative) will be added to the project price. When Innovative becomes aware of the nature or impact of the change, you will be notified, and all project paperwork will be updated. In this instance, a revised quote will be generated for signoff. 
Promotional Products: Unless damaged or misprinted, custom printed promotional products cannot be returned past proof approval. Most goods without decoration may be returned for a refund, account credit or exchange.
Printed Materials: Printed materials cannot be returned past proof approval unless damaged or misprinted.
________________________________________________________________________________________________
Click here to view our full Return Policy